Tŷ Hafan leading the way in pre-loved bridal fashion
Brides-to-be can now shop for that perfect dress for their big day not only in style, but also without breaking the bank, and, while helping the planet.
A new specialist pre-loved bridal boutique has just opened in the Tŷ Hafan Emporium store on 55 Frogmore Street in Abergavenny.
There brides-to-be can shop for cut-price designer dresses, some pre-loved and many new with tags on, and all priced between £50 and £200, as well as enjoy a complementary personal styling session.
Anthea Charles, Manager of Tŷ Hafan Emporium Store, Abergavenny, explains: "Our charity shop on Frogmore Street is already very popular, and we found that we were getting quite a few donations of really gorgeous wedding dresses.
"So we decided to convert an office at the back of the shop into a specialist bridal / occasion wear / personal styling room – a place where you can come and have the full bridal / personal styling experience, just as you would at a bridal shop or with a personal stylist.
"Everything we have has been kindly donated and is being given a second life and more, helping to cut down on waste. We are not just about being eco-friendly though, the cost of a wedding dress can be expensive. However here at Tŷ Hafan Emporium on Frogmore Street we are selling wonderful dresses at a fraction of the usual cost.
"We also have bridal accessories and outfits for the Mother of the Bride and more plus the personal styling sessions are complementary and are for any and every occasion."
"Tŷ Hafan offers care, comfort and support to children with life-limiting conditions and their families. Whether it's in the community or in the hospice, our care is completely free of charge to the families in Wales that need us. Its costs around £4.5 million a year to fund Tŷ Hafan and every year, more and more families are turning to us for much needed support", said Laura James, Head of Retail for Tŷ Hafan.
"I am very proud of what Anthea, her Deputy Manager Nicola Parker, volunteer Lyndsey Davies and the rest of the fantastic volunteer team, have created here. They have worked incredibly hard and have created a retail experience to rival the best."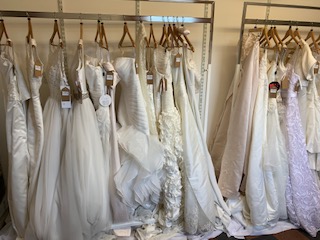 And in a huge vote of confidence in the wares of her shop, Deputy manager Nicola Parker, will be getting married in September – in what else but a Tŷ Hafan Emporium on Frogmore Street bridal gown.
Below is a list of some of the dresses currently in store in Tŷ Hafan Emporium Store, Abergavenny. Prices range from £50-£200, and many are new with tags.
Grace Harrington – Couture York House, Bond Street, Bristol. inspiration comes from speaking to brides, focusing on their needs and keeping up with trends.
Veromia – UK based designer of bridal gowns for the past 18 years.
Papillion LONDON – Couture wedding dresses, Uk bridal designer Suzanne Neville.
Catherine Parry – Bridal gowns are designed in Wales by Maria Ryan and her design team.
Hilary Morgan – UK family-owned business, includes Little People for flower girls. And Warren York for all your accessory needs.
Blue By Enzoani – Multi award-winning designer . Blue By Enzoani epitomizes the quintessential classic bride, by offering styles that endure time and tradition without forsaking fashion and price.
Eternity Bridal – UK based shop, all about romance and timeless elegance.
Victoria Kay – UK-based, wedding dresses from Victoria Kay capture the very essence of the traditional bride.
Jonathan James – American based, these dresses are hand crafted and embellished with the finest Swarovski crystals and hand embroidery.
Miss Kelly Paris – Italian SPONSA group. Trademark design of contemporary femininity with a touch of sensuality.
Morilee by Madeline Gardner – " We're not just making something to wear, we are making magic " As said by Internationally renowned bridal designer.
Romantica – Family owned and run British business for over thirty years with their designer Sally Waddington.
Mark Allen – UK 80s wedding dress designer.
Phoenix Gowns – British-owned, family run. They have been designing and creating beautiful bridal gowns since 2004.
Alfred Sung – Canadian designer, exquisitely crafted signature bridal collections comprising of select gowns ranging from elegant silhouette's to sumptuously romantic.
Ronald Joyce – Luxurious wedding dresses designed in the Uk since the 1950's by award winning designer Veni Infantino.
Bonny – Based in California, all hand crafted and are a stunning collection of gowns which have answered the modern bride's needs.
Paloma Blanca – Since 1937 they have been designing exceptional dresses with attention to detail, with their unique and innovative designs. They are three-time winners of the Distinctive Excellence in the Bridal Industry Award.
Just For You – Bristol based, established in 1992 with a vast selection of bridal dresses to choose from.
All About Eve – UK-based, established in 2002 and is a leading wedding dress shop, offering a large selection of dresses.
Rena Koh – Simple, elegant with a grace of their own.
Mister Ant – 70's British designer.
Amanda Wakeley – A true icon of British bridal design.
Alfred Angelo – American, vintage traditional dresses with a modern twist.
Sophia Tolli – Australian designer, her emphasis on luxurious fabrics and a fabulous fit.
Benjamin Roberts – The Tia collection is a range of contempoary and classic designs for all kinds of brides.
Opening times for Tŷ Hafan Emporium on Frogmore Street are 9am-4.30pm. Covid measures are in place.
If you'd like to find out more go to www.tyhafan.org follow Tŷ Hafan on social media or email abergavenny@tyhafan.org