We can all agree that food is one of the best parts about Christmas. From the mounds of chocolate, the buffet nibbles to the Christmas dinner itself. So we've collected a couple of super easy and fun Christmas treats you can make yourself.
Reindeer Chocolate Bark
This is a great one for kids to get involved with. This festive treat looks very festive and is easy to make. It would also make great gifts for friends and family.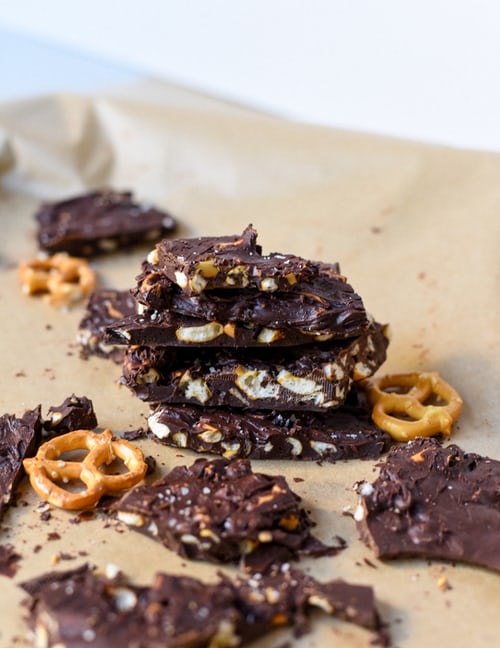 Ingredients
• 100g milk chocolate, chopped
• 100g dark chocolate, chopped
• Red smarties
• Small pretzels
• White mini marshmallows
• Red jelly shoe laces
• Sprinkles and stars
• Black food writing pen
(1) Line a baking tin with baking paper.
(2) Heat both chocolates in separate bowls in the microwave until fully melted, then pour the dark chocolate into a baking tin and then the milk chocolate over the top. Spread the chocolate to make a thick slab.
(3) Arrange the red smarties over the slab (for the reindeer noses), press in the mini marshmallows for eyes, snap the pretzels in half (for the antlers).
(4) Add the stars and sprinkles to make it extra festive
(5) Once the chocolate is hard, use the icing pen to add the pupils in the eyes for that extra detail. Then, using a knife, crack the chocolate into shards around the reindeers.
Peppermint Candy Canes
A classic addition to our Christmas treat list. Delicious and easy to make, what could be better?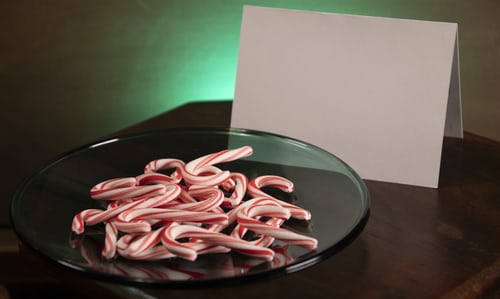 Ingredients
• Few drops of peppermint essence or extract
• 100mg white regal icing
• 50g red regal icing
• 50g green regal icing
(1) Mix in a few drop of peppermint extract into the white, red and green icing.
(2) Divide the white icing in half and wrap one half in cling film, along with the green icing.
(3) Roll the remaining half of white icing in a long, thin shape and do the same with the red icing. Then lay them side by side and twist them together. Gently roll until smooth.
(4) Slice into 12cm lengths and bend the end of each to make a classic candy cane shape.
(5) Repeat with the remaining white icing and green icing, then leave the canes to dry out for at least 24 hours by lining them on a baking sheet.

Popcorn Stars
These adorable Christmas treats look just like ornaments, although I'll doubt they'll make it to the tree. Another quick and easy, delicious festive treat!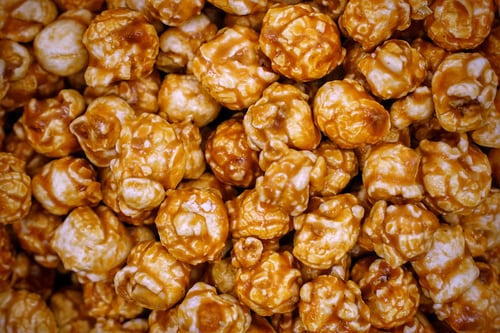 Ingredients
• 1 cup sugar
• 1/3 cup light corn syrup
• 1/3 cup water
• 2tbsp butter
• 1/4 tsp salt
• 1tsp vanilla
• 8 cups popcorn (already popped)
• 1/3 cup sprinkles
• 1/4 cup cinnamon sweets
(1) Add the sugar, light corn syrup and water into a saucepan and put on a medium-heat and stir occasionally until the sugar and light corn syrup.
(2) Remove from heat and stir in the salt and vanilla.
(3) Pour the mixture over the popcorn, making sure to coat all of it, and then add the sprinkles.
(4) With moistened hands, press the coated popcorn into star-shapes. For the best results, use a star cookie-cutter.

Gingerbread People
What would this list be without this Christmas classic? What I love about this is that you can make them as simple or as wildly creative as possible.

Ingredients
• 225g plain flour
• 1/2 tsp salt
• 2tsp bicarbonate of soda
• 1 heaped tsp ground ginger
• 1/2 tsp cinnamon
• 50g unsalted butter
• 100g soft brown sugar
• 100g golden syrup
(1) Pre heat the oven to 190C/ 170C fan/ Gas 5
(2) Line a baking tray with baking paper. The sieve in the plain flour, salt, bicarbonate of soda, ginger and cinnamon into a large bowl.
(3) Heat the butter, sugar and syrup until fully dissolved. Leave this mixture to cool slightly before mixing in the dry ingredients to form a dough.
(4) Chill the dough for about 30 minutes
(5) Roll the dough out on a dusted surface to a 1/4 inch thickness. Stamp out the gingerbread people using your cookie cutter. Make sure to re-roll out the remaining dough to cut more.
(6) Place your cut outs on the lined baking trays and cook for 10-15 minutes.
(7) Once they've cooled, you can decorate them as you wish.

Festive Shortbread Bites
These shortbread bites are quick and easy. Perfect for parties or as gifts.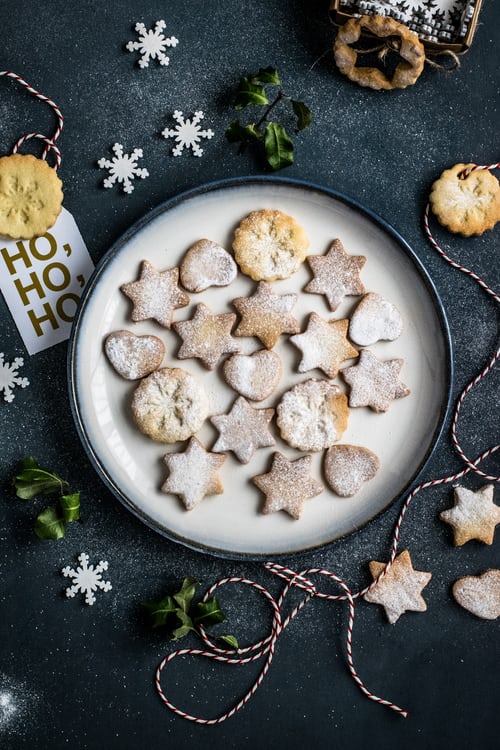 Ingredients
• 1 1/4 cup all purpose flour
• 3tbsp powdered sugar
• 1/4t tsp cooking salt
• 1/2 tsp vanilla extract
• 1/2 cup butter (softened)
• 1tbsp red and green sprinkles
(1) Preheat oven to 165C/ 145C fan/ Gas 3
(2) Mix the flour, sugar, salt, vanilla and butter together and knead into a dough. The knead in the sprinkles until their eventually spread into the dough.
(3) Roll the dough on waxed paper into a 1/2" thick square and freeze for 15 minutes.
(4) Cut the dough into 1/2" squares and put them onto a large baking sheet.
(5) Bake for 18-20 minutes until golden.

Reindeer Mix
This no-bake treat is perfect for a quick festive snack. Another perfect treat for parties and as a gift. Or even just a bowl of it for yourself, curdled up on the sofa watching a Christmas film.

Ingredients
• Shreddies
• Mini pretzels
• Mini marshmallows
• Red and Green M&Ms
• White Chocolate
(amount of each ingredients is dependent on how much mix you'd like to make- the perfect recipe
to make personal for yourself)
(1) Mix together the Shreddies, pretzels, mini marshmallows and M&Ms in a large bowl.
(2) Pour the melted white chocolate over the mixture and stir until it's full coated.
(3) Spread the mixture onto a baking sheet and top with sprinkled and refrigerate for an hour until firm.
(4) Break into pieces to serve